Historical First Ever Florida Muktad Gatha Prayers in ZAF History! It is with great joy and a sense of accomplishment that we all in Florida would like to inform you about the first ever Muktad Gatha prayers held in the home of Sheroo Vazir in the pious memory of her beloved departed husband Dick (Dhunjishah) Vazir. We have 22 all Florida families participating in this event and Ervad Soli P. Dastur performed all prayers for all Gatha Days and Navroze with the help of Ervad Zubin Panthaky on one of the days. We had 3 daily Satum prayers, a Ghambaar/Gatha Jashan and the Ushahin Gah Jashan and Satum on the last Gatha (tonight). The photos in these 6 albums give a glimpse of this wonderful event. We want to thank the Vazir family for giving us a place to hold this event, the all Parsi Goranis Sheroo Vazir and Arnavaz Irani for all their cooking for the prayers and every day meals, Arnavaz's ever sprite 90 year old mom, Tehmina Gundevia, "mumaiji", for her presence in all day long giving all of us encouragement, Nancy and Jahan for their ever presence and organization in countless ways, Dinyar Mehta of Orlando for donating the beautiful white marble tables for the Muktad, and all the ZAF ladies and members for helping and participating to make this event a resounding success for the first time. May the flame of Z Religion burn ever eternal in our hearts and all over the Hapt-e-Keshwar of Ahura Mazda's creation! This is the photo album for the first Gatha Ahunavad Friday 8/14/2009. The other 4 Gatha and Navroze Photo Albums are separate. Sorry for the size of the photos but wanted to send you all the photos in these 6 albums in the originals. Hope you all enjoy them.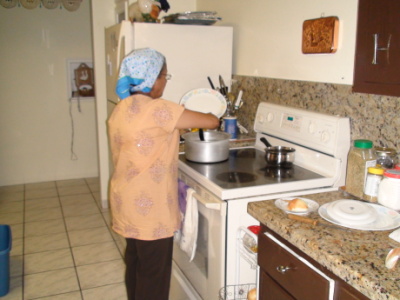 Our own All Rounder Parsi Gorani and superb cook, Arnavaz Irani
What we would have done without her cooking and help?