Whitebridge is one of 31 communities in the University Park Country Club (UPCC), a gated community. It is the ONLT Duplex home community in UPCC and it is maintenance free as far as outside grounds are concerned. The building maintenance is the responsibility of the owner. Most of the duplexes have 2 bedrooms plus den, 2 baths, a kitchen, living room, a little entrance patio, and a back patio. Some owners have extended their backside patios and all of them are covered with a screened in cage. The a/c space varies from 1400 to 1600 sqft. All units have two car garages as a separate building from the home. Most of the home look out to a golf course view in the back and even some have the front golf course view. The suggested price, in most cases, can be negotiated with the owner. The photos are of 5 homes we saw today with Dick McLaughlin, the Re-Max Real Estate Agent as well as the sole UPCC resale agent. I have taken quite a number of photos for the first and the last homes but all homes are similar in floor plans, the first four are called Hibiscus (larger sqft) and the last one is called Gardinia. The last one is right behind our home and you can see our pool cage from this home.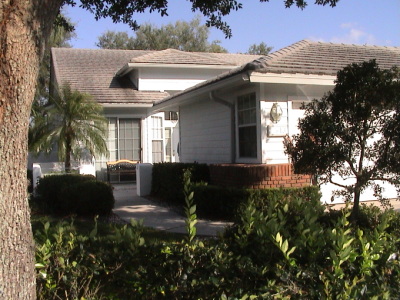 7613 Whitebridge Glen
$349,900, 1609 sqft a/c, 2 car garage. Furnishings $10,000 if selected. This is the front of the home. Garage is in frong of the house separated.